With the sustainable acoustic panels you not only give your rooms an attractive, natural look. The materials used for the panels and the slat-like structure absorb sound and at the same time create pleasant room acoustics and a stylish room experience.
Whether you want to create a design highlight for an entire room, the ceiling, a single wall or just an accent, the acoustic panels can be installed quickly and easily according to your individual ideas and create a cozy, warm feeling in the room.
In addition to the attractive appearance and improved acoustics, the panels have the advantage of being made from sustainable materials.
Thickness: 2.2cm
Length: 120.6cm
Width: 80cm
1 panel = 0.965m²
Modular: no
Weight: 9kg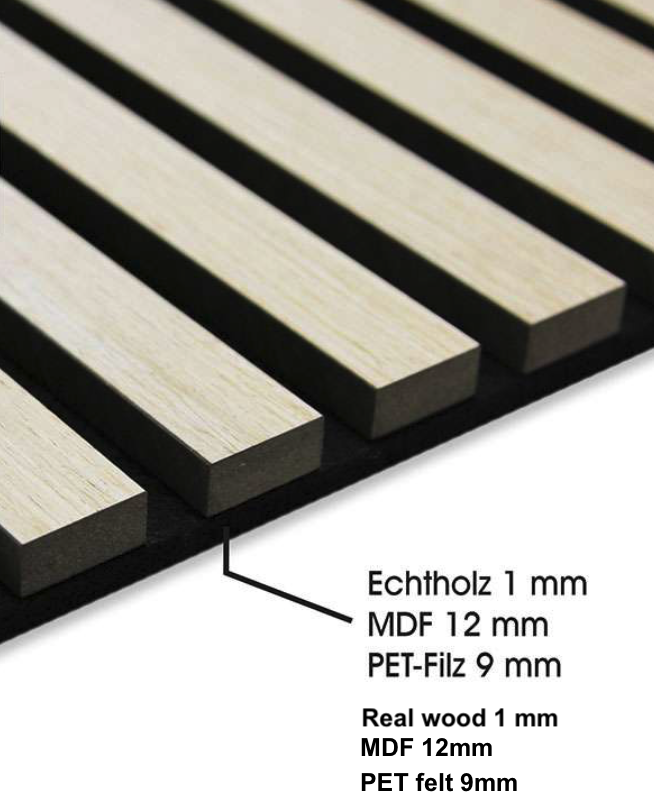 The carrier plate is made of recycled PET felt. One hundred percent of the real wood veneer of the slats comes from sustainably managed forests. The new acoustic panel format of 1200 x 800 mm from the "SOLID ACOUSTIC PANEL" line impresses with its flexible and high-quality appearance and handling.