With the 3D Mirror you have a styrofoam panel that makes your interior unique!
The panel fits perfectly into the layout of modern rooms and bedrooms and allows you to gently break the monotony of the interior design, giving it an elegant character.
The panel is designed to be easy to assemble with no visible parting lines as with typical pattern cut panels.
Ein hervorragender Wärmeisolator, denn sie bestehen aus EPS Styropor, einem Material, dessen Dichte höher als die von EPS-Dämmplatten für die Bodenisolation ist.
Thanks to the plate shape and the material structure, acoustic damping and an aesthetic design are also guaranteed.
The panel can be painted with acrylic paints. (natural colors – solvent-free – no solvent – no thinner)
Advantages of EPS styrofoam panels:
Easy transport to the place of use:
Due to the low weight and professional packaging, both transport and work, such as carrying to the fourth floor, involve little effort.
Coverage Rate:
1sqm of wall is covered with only four panels. Because of its fragility and weight, plasterboard is produced in smaller formats, which makes it more time-consuming to assemble.
Technical parameters
Height: 50cm
Width: 50cm
1 panel = 0.25sqm
Thickness: 2.8cm
Weight of one panel: 0.15 kg
Material density: 35 kg / m3 +/- 5%
Material: EPS (polystyrene) for building purposes, self-extinguishing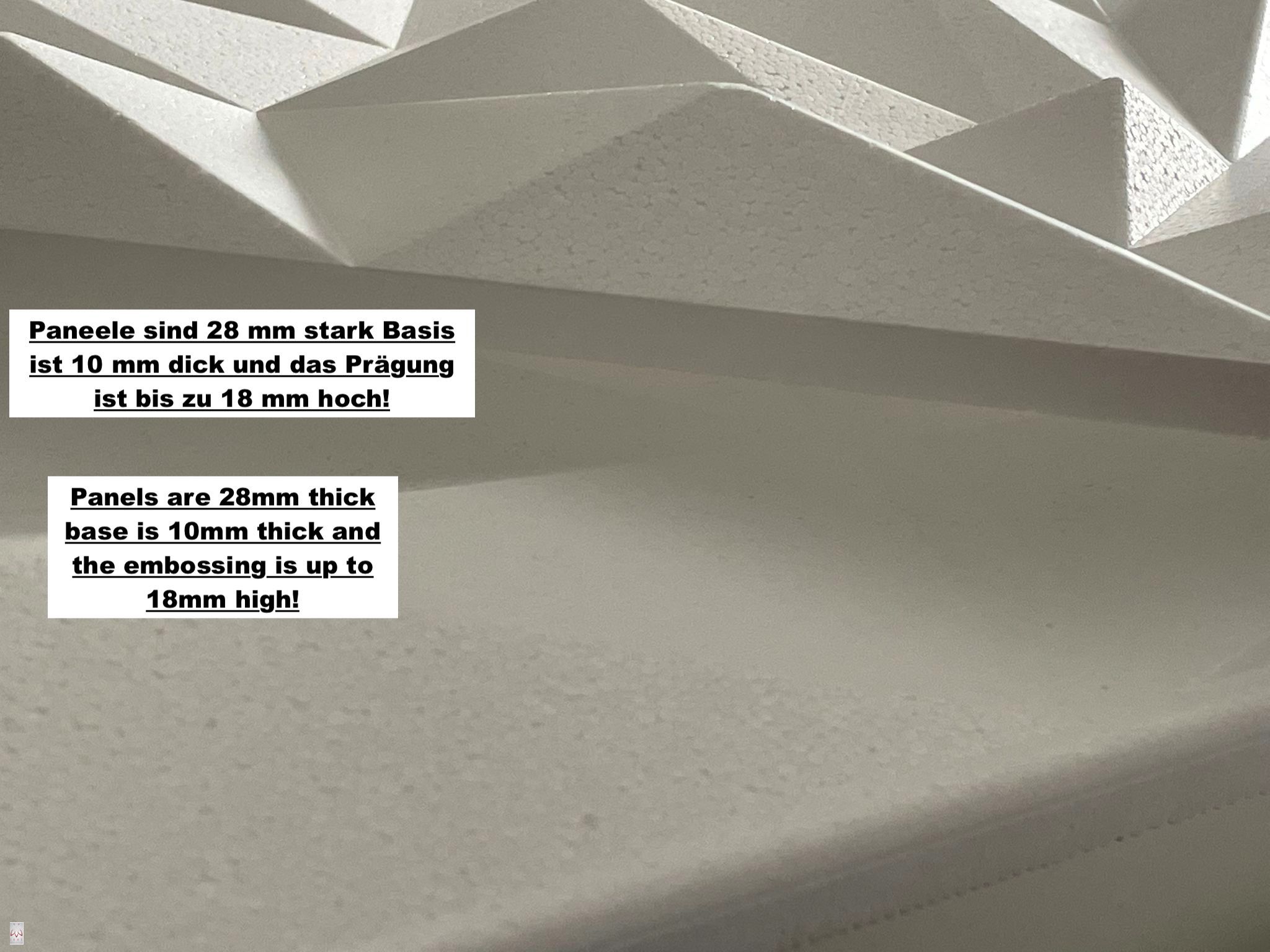 Purpose and Scope
Decorative panels are designed for indoor use. When assembling, the panels are attached to walls and ceilings using Styrofoam adhesive, which is available at any hardware store. Please familiarize yourself with your interface prior to installation so that you can begin designing safely and worry-free.
The products are not resistant to organic solvents such as acetone, nitro compounds, petrol, etc. The panels should not be installed near heat sources!
Assembly instructions
A layer of glue should be applied to the substrate on the smooth contact surfaces of the panels. The surface on which the panel is mounted should be level, dry and free of dust and grease. When laying panels on paint coatings, remove the remains of peeling paint, as well as cracked, falling plaster. Large surface defects should be filled with putty so that the contact point of the board with the substrate is smooth.
Installation of decorative panels
Styrofoam decorative panels offer great freedom in interior design thanks to the possibility of easily cutting shapes with a wallpaper knife. The panels can be placed in fragments, acting as prominent motifs on a smooth wall, or covering all/a major part of the surface. If you want to cover the entire wall surface with panels, start at one of the corners and arrange the panels in parallel rows. Before laying the first slab, cut off the elements that protrude beyond the outline to get a straight vertical edge.
Only the back of the panel should be covered with a layer of putty.
When sticking, press the panel firmly enough, being careful not to damage the decorative surface. The panels are designed for painting with water-based paints.
Storage, transport, safety:
The products should be transported and stored in the manufacturer's packaging.
Keep away from areas where there are open flames or high temperatures.
The product does not require any special precautions.
The product is not designed for children! The products are recyclable.
You buy 1 pieces here = the price is for 1 pieces!
Delivery times can be extended to 4-6 working days.
We recommend carefully measuring the area to be used before purchasing.
Of course, it can always happen that one or two wall panels get dirty or broken during assembly.
We are not responsible for damage during your installation!